The much-awaited game show, Kaun Banega Crorepati is returning back on Sony again its 9th Season, hosted by none other than Megastar Amitabh Bachchan. It was speculated earlier who will host the KBC 9, Madhuri Dixit or Aishwarya Rai Bachchan, and in which time slot it will fit so that it can gain more viewership! Well, the show makers decided to continue the new season with Amitabh Bachchan. After Sony's most-loved serial "Kuch Rang Pyar Ke Aise Bhi" went off the air on 24th August and "Beyhadh" which decided to continue till October with 8.30 pm time-slot, Kaun Banega Crorepati Season 9 will showcase at 9 pm from 28th August, from Monday to Friday, every week.
KAB Season 9 has already broken records as it has already acquired approximately 19.8 million registration applications in just seven days of its announcement. Big B has shot the episodes of KBC 9 in only 17 days [10 days in August and 7 days in September]. He even started his promotions of KBC 9 a month ago. With every season, the viewership and followers are increasing in huge numbers across the country. The makers have made new changes in this season, to grab more eyeballs.
 Fresh Twists in the Game Show with Two New Lifelines
Video Calling Lifeline: Instead of voice calling, the participants can now video call their friend to know the correct answer of they don't know. Lifeline 'Phone-A-Friend' has been amended to 'Video-Call-A-Friend'. Thus, if you want to help your friend sitting at KBC stage, just be prepared for yourself to look your best as it would be the best way to greet and meet Big B through video calling face-to-face interaction, even for few minutes.
Jodidaar Lifeline: This time there will be a Plus One lifeline, Jodidaar. The participants are allowed to bring their partner on the KBC 9 show, as they will double up as a lifeline. In this way, the participant's partner can get the chance to sit on the hot seat.
Prize Money as Digital Currency: In the previous seasons, the winners were given big cheques. But this time the prize money will be transferred into the winner's account in the form of digital currency directly after the announcement of the final result as declared by Sony.

Give a Quick Call if you know the Answers of the Questions asked by Big B during the breaks (auditionform.in)

Jackpot: Season 9 will see a 'Jackpot Question' which would offer the participant on Hot Seat to win Rs. 7 crore at one go. If the participant is thinking of selecting the Big Question, then their all the remaining lifelines will be drained out. Another condition applied here is that either they should win the Jackpot or have nothing in hand. Big B on the Jackpot Question said, "This would give the participants a great prospect to test their knowledge and intelligence to play for 7 crores."
Special Episodes: The special episodes in KBC 9 will present inspirational personalities as guest participants. Big Bi will be inviting few known people who will be interacting on social initiatives they are attached with.

Amitabh Bachchan- the best host of KBC (indianexpress.com)
Season 9 of Kaun Banega Crorepati will offer its audience some awesome experiences to watch along with the new initiation of lifelines and techno developments. Viewers can gain knowledge from the KBC questions asked and answered over this show, including new discussions with Amitabh Bachchan and other personalities.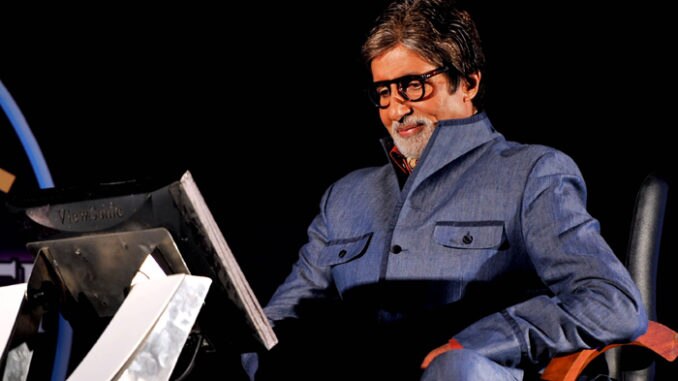 Hence, get set from tomorrow with Big B's "Deviyo aur Sajjno" and his superb hosting of Kaun Banega Crorepati Season 9 from 9 pm onwards only on Sony channel! 🙂





A proficient Web Content Developer (Technical and Non-Technical Writer), Blogger, and Freelance Content Writer. A happy author of www.w3buzz.in! She is a creative person, always eager to learn new aspects, and seeking new ways for improving skills in her field.
Follow me as google.com/+SanghamitraRoychoudhary
Latest posts by Sanghamitra Roychoudhary (see all)