The whole of Gujarat and especially the Ahmedavadis are heartily feeling proud that the state's capital city is now honored as the first world heritage city by Unesco and the excitement is beyond words.  The decision was taken late on 8th July at the 41st World Heritage Committee meeting that was held in Karkow, Poland. Ahmedabad owned this tag alongside other cities like Asmara [Africa], Kulangsu [China], and Hebron [Palestine] among many others. These are the additions to the coveted list of 287 World heritage cities. This list contains only two cities in Indian subcontinent including Galle in Sri Lanka and Bhaktapur in Nepal.
The beautiful journey towards world heritage city started long back with vital milestones like the formulation of heritage policy in 2007, structuring a heritage cell and preparation of dossier in 2011, after which it took almost 6 years to realize the dream. Ahmedabad will be a model which can be replicated elsewhere.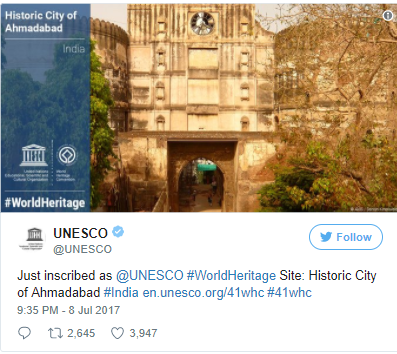 Let's check out here Ahmedabad's well-known heritage places worth visiting!
Teen Darwaza: Constructed in 1411, Teen Darwaza which is a triple arched getaway is a huge closure lead by the getaway with three arches. The three openings have paths passing through with the central path being 17 feet wide, whereas each of the two sides is 13 feet wide. The Darwaza has embellished the supporting structures which lie between the arches. The arch is 25 feet high with the top roofed formally. The getaway led to the Maidan Shahi. The area that is surrounding the gateway is a thriving central market now for cloth and other commodities.

Teen Darwaza in Ahmedabad (Wikimedia Commons)

Jama Masjid: Jama Masjid which is also known as Jami/Jumma Masjid, was built in 1424. It is one of the oldest mosques in the city. In its Indo-Saracenic architecture, few of the central domes created like lotus like the domes of Jain temples, and some of the pillars are shaped in the form of a bell hanging on a chain, like the bells which hang in Hindu temples. On one of the innermost windows, there is a carving of an Om symbol on it. Actress Shraddha Kapoor had shot scenes outside Jama Masjid for her upcoming movie Haseena Parkar releasing on 18th August.

Jama Masjid in Ahmedabad (YouTube)

Sarkhej Roza: Opened in 1451, Sarkhej Roza is one of the most unique and elegant architectural complexes of Ahmadabad. It is an accurate combination of Hindu, Jain, and Islamic architectural styles. Hindu craftsmanship, as well as construction know-how, was overlaid on Islamic sense of geometry and scale.

Sarkhej Roza in Ahmedabad (The Ahmedabad Blog)

Sidi Sayeed Mosque: Built in 1573, the Sidi Sayeed mosque is the last of the major mosques that were built in Ahmadabad under the Mughal rule. The carved jaalis in the windows of the western wall have become a symbol of Ahmedabad.

Ahmedabad's Sidi Sayeed Mosque (Sid The Wanderer)

Ellis Bridge: Ellis Bridge is the first bridge that was built in Ahmedabad in 1892. Later on, concrete wings were created on either side of the bridge and it was renamed Swami Vivekanand Bridge in 1997. A song sequence from Bey Yaar Dhakko Maro was shot in Ellis Bridge.

Ahmedabad's Ellis Bridge (Wikipedia)







Hence, the Unesco tag for Ahmedabad will even encourage tourism, and will also ensure that the homes are sheltered and restored and not converted into shops or go-downs. At last the untapped potential and also resources have been recognized worldwide that will craft strong awareness among the people from all walks of life. Congratulations and cheers to Ahmedabad for its grand, universal success! 🙂
A proficient Web Content Developer (Technical and Non-Technical Writer), Blogger, and Freelance Content Writer. A happy author of www.w3buzz.in! She is a creative person, always eager to learn new aspects, and seeking new ways for improving skills in her field.
Follow me as google.com/+SanghamitraRoychoudhary
Latest posts by Sanghamitra Roychoudhary (see all)