As the month of November rolls on, it is all set to approach with two of the best Bollywood movies that are much-awaited by the audiences. Guys and girls are in celebration mood, and with the release of two outstanding movies in the festive month, it will be double dhamaka and excitement along with their favorite hero's movie-watch.
Advance booking of Prem Ratan Dhan Payo started 5 days ago, that is on 7th November (Saturday) with full swing in New Delhi, Mumbai, Pune, Bangalore, Kolkata, Chennai, and many other places. People have already begun booking tickets for Salman Khan's movie. "Prem Ratan Dhan Payo" will surely have an impressive launch at the box office. After working with Sooraj Barjatya's remarkable films earlier as favorite Prem, Salman Khan is back again in the same director's Prem Ratan Dhan Payo as much-loved Prem by his fans.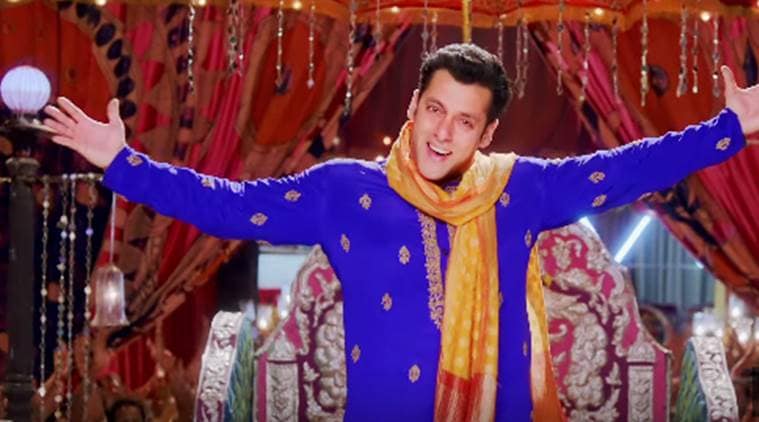 Viewers will again get to watch Ranbir Kapoor-Deepika Padukone's "Tamasha", as this jodi always excels in every film they act together.
Prem Ratan Dhan Payo (12th November release)
This time Diwali is celebrated today 11th November, and on New Years' occasion Prem Ratan Dhan Payo is hitting the theaters on 12th November, 2015. Written and directed by Sooraj Barjatya, Prem Ratan Dhan Payo will be portrayed as family drama movie, with background arranged in a very lavish way. Rajshri Productions' films are always appreciated for their well-framed entertaining storyline, and this time too they are coming up with something bigger and extravagant. This film will be the fourth association of Sooraj Barjatya and Salman Khan. Before that they have gave blockbuster films- Maine Pyar Kiya (1989), Hum Aapke Hain Koun(1994) and Hum Sath Sath Hain (1999).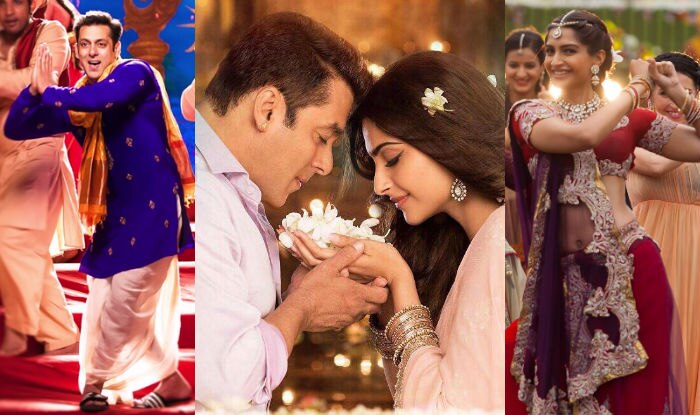 Prem Ratan Dhan Payo is edited by Sanjay Sankla, and the movie is distributed by Fox Star Studios. The music is given by Himesh Reshammiya, Shaan, Aman Trikha, Palak Muchhal, Harshdeep Kaur, Aishwarya Majumdar, and many others.
Storyline of PRDP
The storyline of Prem Ratan Dhan Payo portrays the Dilwale Prem. Salman Khan plays the role of innocent and fun-loving Prem doing Ram Leelas (stage plays related to Lord Rama) located in Ayodhya (India). Whatever money Prem earns from these plays, he does his share of donation to a charitable fund in that city. Beautiful Maithili (as Sonam Kapoor) runs this charity, and when Prem meets her, he is fascinated by her sweet, simple nature. Though she is the princess, still she behaves nicely; leads a usual life; and helps common people always. Prem thus expresses his interest to such causes that Maithili embarks. This movie is followed by huge drama that is highly spectacular along with amazing bonding and test of love. The film revolves around emotions where the nice Prem has to depend on his intuition; and purity of heart in order to win other people's heart, and has to face his every situation coming his way in a brave way.
Salman Khan plays a double role- Prem, a common man, and Vijay, a royal prince. As his role describes, he will be seen wearing stylish ethnic wear, covering Indian attire, and jewellery. Audience is excited to view Prem and Vijay in this movie, and his brilliance in acting, romance, dance, anger, fight, etc. This movie will be really worth-watching this Diwali with fresh pair Salman Khan-Sonam Kapoor.
Cast of Prem Ratan Dhan Payo
Prem and Vijay: Salman Khan
Maithili: Sonam Kapoor
Niranjan: Neil Nitin Mukesh
Chirag: Armaan Kohli
Diwan: Anupam Kher
Prem's Sister: Swara Bhaskar
Prem's Another Sister: Aashika Bhatia
Kanhaiya: Deepak Dobriyal
Sanjay Mishra
Music of PRDP
Prem Ratan Dhan Payo includes 10 songs that are composed by music director Himesh Reshammiya, and lyrics are given by Irshad Kamil. The title track has been sung by Sonu Nigam and Kumar Sanu. A romantic track where Sonam and Salman are romancing has been sung by Palak Muchhal. The original background score has been composed by Sanjoy Chowdhury. Himesh Reshammiya has been acclaimed for the magnificent themes based for his songs of this movie. PRDY has definitely captured the original traditional 'Barjatya' touchup along with expressive melodies.
Among the ten songs, one song continues till 13 minutes that is the longest track sung ever. This song will approach a vital point where it will include the complete family covering Sonam Kapoor bonding together emotionally over football as they've great time at marriage ceremony.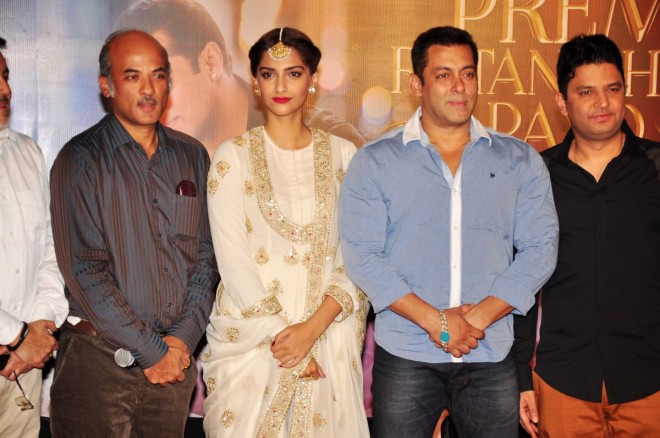 Salman Khan conveyed, "Prem Ratan Dhan Payo would be the biggest budget film that I have done; he [Sooraj Barjatya] isn't bothered much for it; I'm rather worried for him, but when you as an audience wil watch the film, you wanna watch it again."
Prem Ratan Dhan Payo will also be releasing in Tamil and Telugu versions as 'Mei Maranthaayo Anbe', and 'Prema Leela'. In Telegu version, the voice of Salman Khan has been dubbed by Ram Charan Teja. Thus this film releases in India on 12th November, and on the same day it will also be launched in Pakistan.
Tamasha (27th November release)
Tamasha will be showcased at the end of this month dated on 27th November, 2015. This romantic drama movie is written and directed by Imtiaz Ali, starring lead actor Ranbir Kapoor and actress Deepika Padukone. It is produced by Sajid Nadiadwala, and Imtiaz Ali; edited by Aarti Bajaj; cinematography by Ravi Verma; and music given by A.R. Rahman.
Storyline of Tamasha
Tamasha is depicted as a sweet love story that portrays about Ved Sahni (played by Ranbir Kapoor); a simple guy who has lost his own individuality by living a life in accord with the social conventions of the society that is anticipated from him. The fairy tale film unfolds in Corsica, France in July 2014 when Ved meets a tourist girl Tara Maheshwari (played as Deepika Padukone). She strikes a strong chord with Ved when she comes across him accidently. She gives a quick reminder to him that he shouldn't change himself in order to suit into this world. He should give himself a chance to enjoy life, and be who he really is as a human being. Gradually when Ved and Tara spend time together in Corsica, they grow love and affection towards each other while coordinating Tamashas across that island.
Being a small town boy, Ved has grown in the world of stories where he actually belongs, and not the corporate world. His journey passes through various Tamashas that he performs with great enthusiasm, which dismantles the life of Ved in order that he can turn out to be how Tara sees him as an enthusiastic person. Few parts of this film were shot in Indian cities covering Shimla, Delhi, Gurgaon, and Kolkatta. It was also shot in Tokyo (Japan), and then ended in Mumbai in August 2015.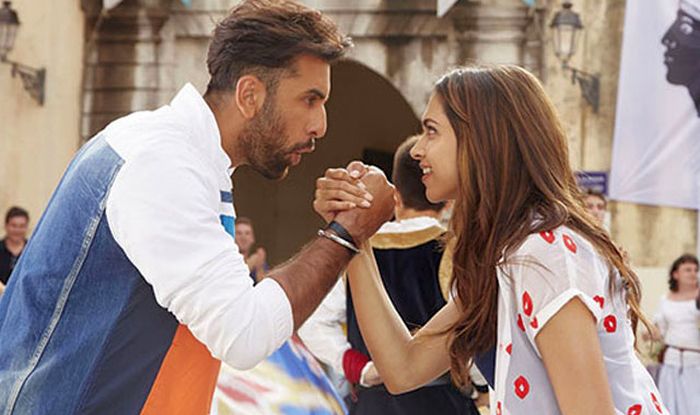 Star Cast of Tamasha
Ved Vardhan Sahni: played by Ranbir Kapoor
Tara Maheshwari: played by Deepika Padukone
Ved's father: played by Javed Sheikh
Tara's father: played by Nikhil Bhagat
Tara's brother: played by Faraaz Servaila
Tea Executive: played by Punam Singh
Music of Tamasha
The musical songs have been composed by Bollywood's ace music composer A. R. Rahman. The song lyrics have been written by Irshad Kamil. After Imtiaz Ali's Rockstar and Highway, this is the third time that Rahman is contributing for his Tamasha movie. The music album got released on 16th October, 2015 by T-Series.
Trailer of the film
Trailer has already been released that showcases the world of Ved Sahni (acted by Ranbir Kapoor) where he leads a dull life where everything is routine, and he isn't much happy executing them. Then he bumps into Tara (acted by Deepika Padukone) in Corsica where his life changes completely as he performs quite many tamashas with her, and also does excited things that he enjoys doing.
Guys and girls, get ready for tomorrow's release Prem Ratan Dhan Payo with lead pair Salman Khan and Sonam Kapoor, and upcoming Tamasha starring Ranbir Kapoor and Anushka Sharma on 27th November.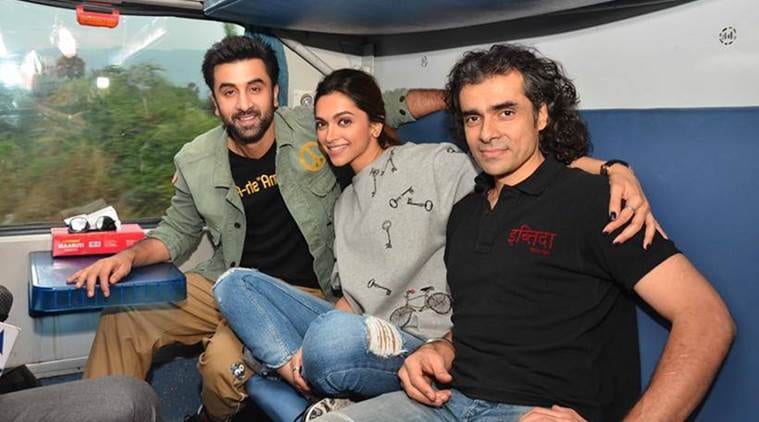 Wish you all a very Happy Diwali! May the Divine Light of Diwali shine with happiness, peace, good health, and prosperity in your life! Have fun with family and friends this Diwali with best movie PRDP releasing at the box-office! 🙂
A proficient Web Content Developer (Technical and Non-Technical Writer), Blogger, and Freelance Content Writer. A happy author of www.w3buzz.in! She is a creative person, always eager to learn new aspects, and seeking new ways for improving skills in her field. She loves traveling & photography; also, a sports enthusiast!
Follow me as @SanghamitraRch on Twitter.
Latest posts by Sanghamitra Roychoudhary (see all)
A proficient Web Content Developer (Technical and Non-Technical Writer), Blogger, and Freelance Content Writer. A happy author of www.w3buzz.in! She is a creative person, always eager to learn new aspects, and seeking new ways for improving skills in her field. She loves traveling & photography; also, a sports enthusiast!
Follow me as @SanghamitraRch on Twitter.