Zee TV's singing reality show, the popular Sa Re Ga Ma Pa L'il Champs 2017 that started off with flying colors on 25th February, is finally coming to an end. With the continuation of the eight long months, Amul Sa Re Ga Ma Pa L'il Champs has been rated as the best television show. The grand finale will be showcased on Sunday, 29th October from 7 pm onwards.
Top 6 Finalists of Sa Re Ga Ma Pa L'il Champs 2017
Winners of Sa Re Ga Ma Pa L'il Champs
Title Winners: Shreyan Bhattacharya and Anjali Gaikwad 

Winners Anjali Gaikwad and Shreyan Bhattacharya with SaReGaMaPa Cup (The Indian Express)

Shreyan Bhattacharya from West Bengal and Anjali Gaikwad from Maharastra won the Sa Re Ga Ma Pa L'it Champs title and lifted the winner trophy together with great happiness.

Runners-up: Vaishnav Girish, Shanmukhapriya M, Sonakshi Kar, Dhroon Tikku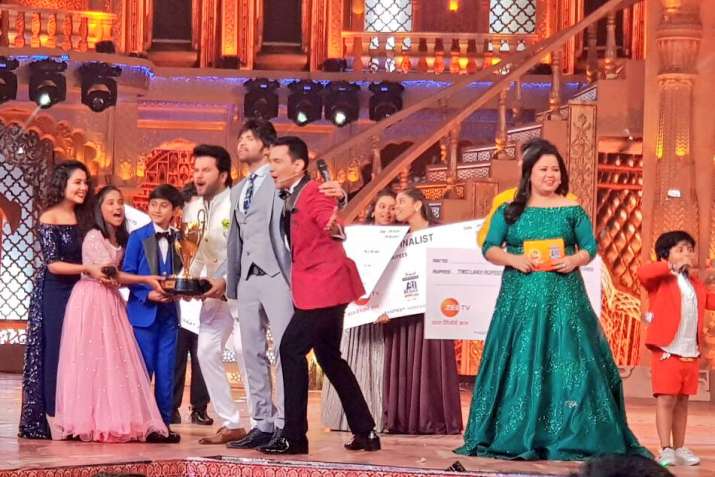 The exciting Sa Re Ga Ma Pa L'il Champs for 5-14 years
The age group of kids who participated in this show is between 5 to 14 years. All the kids who participated in Sa Re Ga Ma Pa have amazing singing talent, getting a lot of praises from the 30 grand jury members in most of the episodes. Sa Re Ga Ma Pa L'il Champs is aired every Saturday and Sunday on Zee TV at 9 pm. The 30-member Grand Jury gives grades to the contestants. The average percentage of their singing scores is exhibited.
Most of the contestants get 90 to 100% grades as they sing merrily on Bollywood songs. In the latest episodes, few have been continuously getting 100%. It was in the gala round where the judges Himesh Reshammiya, Neha Kakkar and Javed Ali chose the "Student of the Week" who became the best performer as per them and the jury members. That contestant gets a chance to sit on a flying sofa where he/she will be safe for the next week's elimination round.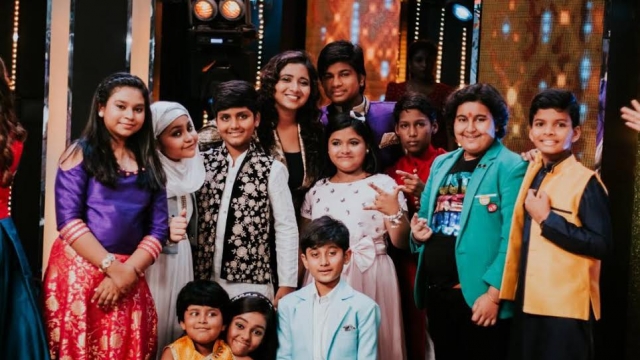 The jury members have been mentoring the L'il champs throughout the season so that they perform brilliantly in every episode in front of the judges. Voting lines are open for the general audience to vote for their favorite among the top 6 contestants. The contestant who gains the highest votes will be declared as the winner of the completion and he/she will get a cheque along with a brand new vehicle as gifts.
Grand Finale Date, Time and Channel
Date: 29 October 2017
Time: 7 pm onwards
Channel: Zee TV

Few Mentors dance on the SaReGaMaPa stage (The Indian Express)
Judges and Hosts of Lit Champs
Judges: Himesh Reshammiya, Neha Kakkar, and Javed Ali
Host: Aditya Narayan
16 Contestants who qualified for Sa Re Ga Ma Pa L'il Champs 2017
Adnan Hussain
Dhroon Tickoo
Jasu Khan
Jayas Kumar
Hasrat Ali
Rajashree Bag
Riya Biswas
Satyajeet Jena
Saimann Sewa
Shanmukhapriya M
Shaktiswaroopa Panda
Shreyan Bhattacharya
Sonakshi Kar
Tanya Tiwari
Utkarsh Wankhede
Yumna Ajin
Anjali Gaikwad (wildcard entry)
Overall, this season was really fun and entertaining. Kids were magnificent in giving their best shots in singing. As this show was nearing its end, since a month or two, the remaining 6 to 8 children were singing marvelously, getting 100% grades. Kid Jayes Kumar, the youngest of the children never got out of the show as he is kept to entertain everyone with his singing talent. Host Aditya Narayan is known for cracking funny jokes on jury members, judges, children and him too.
Don't miss the grand finale of Sa Re Ga Ma Pa L'il Champs on Zee TV on Sunday, 29th October, 7 pm onwards! You can also keep its updates online on YouTube videos and Jio app. All the best to Anjali, Dhroon, Shanmukhapriya, Shreyan, Sonakshi, and Vaishnav! Cheers to all the 6 for their superb performances on stage. Sa Re Ga Ma Pa L'it Champs thus ended on an amazing note! Catch you next year with yet another exciting season of L'il Champs! 🙂
A proficient Web Content Developer (Technical and Non-Technical Writer), Blogger, and Freelance Content Writer. A happy author of www.w3buzz.in! She is a creative person, always eager to learn new aspects, and seeking new ways for improving skills in her field.
Follow me as google.com/+SanghamitraRoychoudhary
Latest posts by Sanghamitra Roychoudhary (see all)