Are you interested in what goes on in people's minds? Have you ever wanted to put your artistic abilities to good use? Does mental health seem an interesting concept to you?
If you just answered these questions in a 'yes' then becoming an Art Therapist will fulfill your career needs.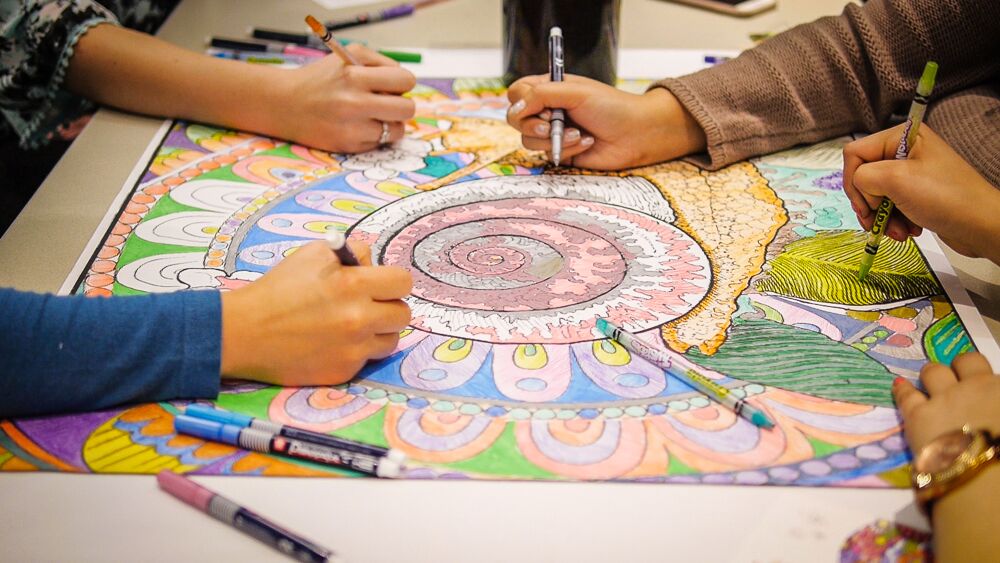 We live in a time where every other person is affected by one or more mental ailments. The need for efficient therapists is rising tremendously. A new branch of psychotherapy, i.e. art therapy, is setting its foot among the youth. Art Therapy is a kind of treatment technique which uses art and artwork as its tools.
Who is an Art Therapist?
Art Therapist is a professional who helps to treat people having mental disorders with the help of creative equipment. These may include sculpting, painting, origami, etc. At a therapy session, an Art Therapist guides the client through an artwork. He compels the client to express himself through that particular art. This expression is then interpreted by the Art Therapist. Probable conclusions are drawn to provide recommendations and counseling to the client accordingly.
Sounds interesting? Let's discuss the roles and responsibilities of an Art Therapist in detail.
Roles and Responsibilities
An Art Therapist wants to do this! But what exactly will be his/her responsibilities?
This seems exciting, right? Let's dig into the duties you will be performing.
To provide guidance and support to the client. This means you will have to help them in their artwork.
To interpret the expressions laid out by the client in the art.
To analyze the outcomes of a session.
To draw meaningful conclusions and present suitable recommendations.
To come up with customized art sessions for specific client groups.
To create a secure environment for the client. This is done to make the client feel safe and confident.
To encourage clients to reflect on their artwork.
To offer necessary counseling to the clients.
To conduct seminars for client groups so that they can help each other as well.

Beautiful Coloring Shades (eLearning Marketplace)
Key Skills an Art Therapist should possess
What skills will you need to have to do this job?
Possession of some skills is very important for this profession. Let's discuss such skills below.
Communication Skills
An Art Therapist needs to have excellent communication skills. This is the most important attribute you should possess. You have to find out different ways in which you can communicate. This is applicable when dealing with clients of different nature. You must be able to get to know the root of the problem of your client.
Observation Skills
In art therapy, observation plays a vital role. The artwork that the client presents will be your data. Therefore, close observation of this information is necessary to understand the psychology of the client.
Social Skills
Social skills may also be termed as empathy. You should be able to empathize with the client. Providing emotional support to the client helps to build trust within them for you. Adhering to their emotional needs will help them to express themselves openly.
Creativity and Imaginative Skills
You are not just a psychotherapist. You are an Art Therapist. This means that you must be inclined towards producing and appreciating the artwork. Creativity is an important aspect of being an Art Therapist. Your imaginative skills will help you to analyze the clients' artwork in a better way.
Interpretation Skills
Your ability to interpret the artwork of a client is essential. In an art therapy session, a client expresses himself through his artwork. It is the duty of an Art Therapist to interpret this artwork. Such interpretation will help you to understand the state of mind of a particular client. You can then design a healing strategy for that particular client accordingly.
Work Environment
What will my workplace look like?
Art Therapists may either work for a particular institution or go for private practice.
When working for institutions, you will work in different settings. These include mental health facilities, schools, hospitals, rehabilitation centers, nursing homes, etc. Private practice is usually conducted in a clinic.
You can also conduct private practice sessions in an environment in which the client feels safe. Such an environment may include a park or a hall or a closed room. Also, you may have to deal with clients of all ages. The nature of the clients will also vary considerably. Therefore, you must be mentally prepared to deal with any interpersonal issues that may arise at work.
Growth Trajectory
What is the scope of career growth as an Art Therapist?
Art Therapy is still at an infant stage in India. There are very few art therapy centers in the country. This does not mean that the scope for this career is narrow. This profession has not bloomed adequately in India. This means you will have greater opportunities to make a mark as an Art Therapist!
Due to the complexity of the field, there is not much competition available for now. This will increase your chances to succeed in this field. You will also be one of those who helps people to gain knowledge about this profession. With increasing stress and pressure the demand for therapists is rising. Art therapy is therefore bound to be in demand as a powerful treatment technique.
Also Recommended Read: Omniscienthealth
Path towards Art Therapy
How do you get there?
Step 1: High School/Junior College
You should choose Arts stream at high school level. You must emphasize on opting for psychology and fine art at this level. This will give you a base for further learning.
Step 2: Graduate Degree
A good score at high school level will help you to get into a reputed college for a Bachelor's of Arts (B.A.) course. Here too you must choose psychology and fine arts as majors. Performing arts can also be chosen if the college permits you to have 3 practical subjects.
Step 3: Certificate Course
After completing your graduate degree you should go for a Certificate Course in Art Therapy. There are many private institutions which provide such courses.
Congratulations! You are now an Art Therapist!
Step 4: Post Graduate Degree
A post graduate course on art therapy may be difficult to find in India. You can choose to go abroad for further studies if you want to go into the research line of this field.
Pay Scale
How much will you get paid?
Psychological therapy is being looked for by many in the country. As a private practitioner, you will usually charge per session basis. You can charge up to INR 2,000 initially for a single session. With an experience of 2-3 years, the charges may be increased to INR 3,000 to INR 4,000. As you will gain experience and reputation the charges per session will rise.
At mental health institutions and departments, the initial salary will be around INR 20,000 per month. This salary bar will rise as you will gain more experience.
Since this profession is still in its infant stage, opportunities are massive for you. Pay scales will vary when competition sets in.
Hence, try your art in the field of Art Therapy and be the expert Art Therapist!
A proficient Web Content Developer (Technical and Non-Technical Writer), Blogger, and Freelance Content Writer. A happy author of www.w3buzz.in! She is a creative person, always eager to learn new aspects, and seeking new ways for improving skills in her field.
Follow me as google.com/+SanghamitraRoychoudhary
Latest posts by Sanghamitra Roychoudhary (see all)