Holding the attention of a large group of people is not an easy task and thus, anchoring is no less than an art. And one person who has mastered this art and brought out several kinds of innovations in it through his distinctive style and panache is AK Rahman. Rahman, today, is counted as one of the most successful anchors in the country, having hosted a wide range of shows and live events not just in India but across the globe.
Anchor AK Rahman hosts Hotstar's New Original Show 'Hostages' starring Tisca Chopra and Ronit Roy
Recently, he hosted the launch event of 'Hostages', a Hotstar original show directed by renowned filmmaker Sudhir Mishra ['Dharavi', 'Chameli', 'Hazaaron Khwahishein Aisi', 'Yeh Saali Zindagi']. The show is essentially a thriller in which see a top surgeon asked to assassinate a chief minister in order to protect his family. The show starts streaming on Hotstar from 31st May. The event was attended by the bigwigs of the country and Rahman made it sure that everybody had a gala time at the event.
About hosting the event, Rahman says, "This was, definitely, one of the most prestigious events I have hosted in recent times. Sudhir Mishra is one of the best filmmakers we have in the country and it was an absolute honor to introduce the audience to the first ever digital show he has directed. I look forward to watching the entire series when it starts streaming by the end of this month."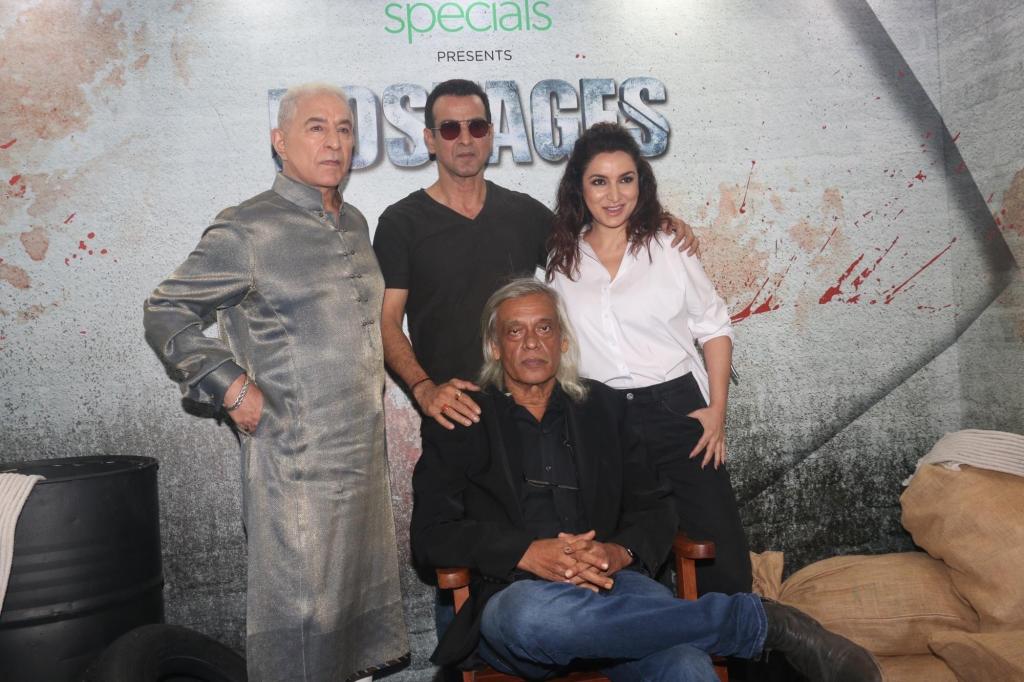 The forever-busy anchor has several more events lined up to host in the next few weeks and all of them, he says, are different from each other. After all, his versatility is what makes AK Rahman one of the most sought-after anchors in the country, and outside of it, today. Let's get to know more about Hostages in detail!
Storyline of Hostages
Hostages is actually a crime thriller with a storyline moving around the life of a reputed surgeon who is commanded to assassinate the Chief Minister, in return for her family's survival. In this series, the battle of Dr. Mira Anand is picturized as killing the chief minister as per the order was given to her, so as to save her family, and here every character is a hostage fighting for their survival. Mira being trapped in a no-win circumstance has to select one over the other.
Actor Ronit Roy, while telling about his character, conveyed, "The series starts with my character named Prithvi Singh who is a superintendent of police, and things would seem to hit up quickly from the very beginning. The tension level increases by various twists and turns, plots, and the mystery that would keep the audiences glued throughout. Also, the show is absolutely excellent for them to explore each and every episode."
Lead actress Tisca Chopra said, "I'm depicting a superbly appealing character Dr. Mira Anand who is seen wearing distinct hats. Many women can easily relate to this character who struggles with their jobs, yet is a role model mom. I'm pleased to be an important part of the show."
Director Sudhir Mishra thanked Applause Entertainment, Banijay Asia and Hotstar for giving him a great opportunity to adopt the Israeli version to India and then direct this strong ensemble.
Telecast Date of Hostages
Show Name: Hostages
Telecast on: Hotstar
Medium: Digital
Genre: Crime Thriller
Date of Telecast: May 31, 2019.
Star Casts: Tisca Chopra, Dilip Tahir, and Ronit Roy as leads, along with Parvin Dabas, Aashim Gulati, Mohan Kapoor, Malhaar Rathod, Sharad Joshi, Surya Sharma, Anangsha Biswas.
Directed by: Sudhir Mishra.
Created by: Applause Entertainment.
Adaptation of: the original Israeli version of Hostages (an internationally acclaimed series).
Watch out for the completely packaged thriller show "Hostages" only on Hotstar including Tisca Chopra, Rohit Roy, Parvin Dabas and Dalip Tahil, from May 31 which will surely engage you binge-watching all its interesting episodes just to find out about the next consecutive episodes.
[External Resource]
A proficient Web Content Developer (Technical and Non-Technical Writer), Blogger, and Freelance Content Writer. A happy author of www.w3buzz.in! She is a creative person, always eager to learn new aspects, and seeking new ways for improving skills in her field.
Follow me as google.com/+SanghamitraRoychoudhary
Latest posts by Sanghamitra Roychoudhary (see all)
A proficient Web Content Developer (Technical and Non-Technical Writer), Blogger, and Freelance Content Writer. A happy author of www.w3buzz.in! She is a creative person, always eager to learn new aspects, and seeking new ways for improving skills in her field.
Follow me as google.com/+SanghamitraRoychoudhary