Dreams build new hopes, every day, every month, every year, and thus developing new technologies are always in the minds of the experts! The vision of a futuristic transportation is absolutely alive as illustrate d by a wonderful concept known as Hyperloop. The new mode of transport, Hyperloop could transform mass transit, reducing the travel timing on land and also lessening the environmental harm in this process.
What is Hyperloop?
Hyperloop comprises of Sealed Tube or a series of sealed tubes through which pods or capsules carrying passengers can travel at speeds that can touch 1200 km/hour. It is capable of achieving this speed because there is no air resistance or friction.
The idea of Hyperloop was put forth by Elon Musk's joint team at Tesla and SpaceX. Hyperloop is described as the best mode of transport for the two cities that are closer than 900 miles or 1500 km. Los Angeles based Virgin Hyperloop One & Musk's Hyperloop Transportation Technologies [HTT] have already signed MoUs with Government of Karnataka, Maharashtra & Andhra Pradesh respectively.
Hyperloop is pitched as an Open Source Concept where anyone can contribute to its design process. The hope is that the Hyperloop systems can start working as early as 2021.




Proposed Routes by Virgin Hyperloop
Mumbai to Pune: In just 13 minutes.
Bengaluru-Chennai: 6 Hours to 20 minutes.
Vijayawada to Amaravathi: 1.5 Hours to 6 Minutes.
Bengaluru to Thiruvananthapuram: 13 hours to 41 minutes.
Delhi to (via Jaipur and Indore) Mumbai (via Bengaluru) to Chennai: 20+ hours to only 55 minutes.

Network country-wide proposed by Hyperloop (theengineeringcommunity.org)
Indian Cities will be brought closer than ever before if the Hyperloop Transport System ever becomes a reality. It would be much faster than India's bullet trains which will begin functioning only in 2024!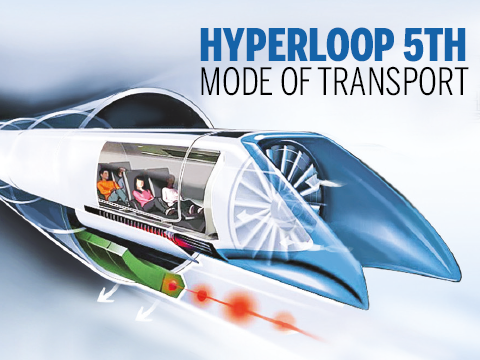 No city in India is going to be too far for the Hyperloop! We look forward to a better and a brighter India in the coming years!





A proficient Web Content Developer (Technical and Non-Technical Writer), Blogger, and Freelance Content Writer. A happy author of www.w3buzz.in! She is a creative person, always eager to learn new aspects, and seeking new ways for improving skills in her field.
Follow me as google.com/+SanghamitraRoychoudhary
Latest posts by Sanghamitra Roychoudhary (see all)