Durga Puja is the most awaited festival among Bengalis and Odiyas. It is celebrated in remembrance of the impressive victory of Durga Maa over the Demon King, Mahishasura. Goddess Durga killed Mahishasura and saved the world from his cruelty. Durga Puja begins on Tuesday, 26th September and ends on Saturday, 30th September. Bengalis and Odiyas in our country and abroad rejoice Durga Puja to the fullest. Durga Puja pandals can be seen mainly in West Bengal, Odissa, Assam, Bihar, Andra Pradesh (Hyderabad), Gujarat (Surat), Maharashtra (Mumbai and Pune), Bangalore, and many abroad places (US, UK).
 The Power of Goddess Durga
Durga Maa is also known as Mahishasura Mardhini as she liberated the world from his evilness. She is portrayed as the furious form of the protective Mother Goddess who unleashes her anger against the wrong-doings and destruction. She is fearless yet feminine. Another form of Goddess Durga is Mata Parvati – the Hindu Goddess of love, devotion, and fertility. She is the wife of Lord Shiva and renowned for her power and divine strength. People worship Goddess Durga whole-heartedly as it is a big occasion for them to rejoice with their family and friends.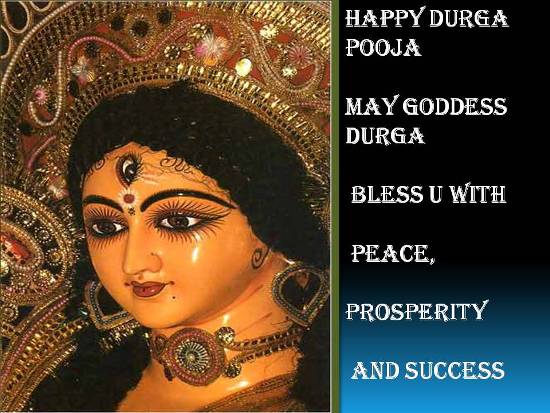 Durga Puja Festival
Referred as Sharadotsav or Durgotsava, Durga Puja is a Hindu festival which commemorates the worship of Goddess Durga. It starts with Mahalaya, Panchami, Shashthi, Maha Saptami, Maha Ashtami, Maha Nabami and Vijaya Dashami. This festival is observed from the sixth day till the tenth day of Ashvin month. On the Vijaya Dashami or Dussehra, Lord Rama's victory is celebrated on his victory over the demon king, Ravana.
Dates of Durga Puja 2017
| | | |
| --- | --- | --- |
| Event Name | Day | Date |
| Mahalaya | Tuesday | 19th September 2017 |
| Maha Panchami | Monday | 25th September 2017 |
| Maha Shasthi | Tuesday | 26th September 2017 |
| Maha Saptami | Wednesday | 27th September 2017 |
| Maha Ashtami | Thursday | 28th September 2017 |
| Maha Nabami | Friday | 29th September 2017 |
| Vijaya Dashami | Saturday | 30th September 2017 |
Five-Day Durga Puja Celebrations
Shasthi [26th September]: On this day Goddess Durga comes down to earth along with her four children, Lakshmi, Saraswati, Kartikeya and Ganesh. The face of Goddess Durga and other idols are unveiled in the evening.

Durga Puja at Belur Math, Kolkata (Belur Math)

Saptami [27th September]: Saptami is the first day of Durga Puja. The day starts with Kola Bou bath where the banana tree is bathed in a river before dawn, dressed in a sari just like a newly-wed bride, and used to transfer Goddess's energy. Pran Pratisthan ritual is also done where the presence of Durga Ma is invoked into idols.

Sapthami Celebration (post.jagran.com)

Ashtami [28th September]: This is the most important day of Durga Puja where people throng to pandal to give Pushpanjali in the morning without eating anything. Kumari Puja ritual takes place in the morning where Goddess Durga is worshipped. In the evening, Sandhi Puja is executed for worshipping Durga Maa in her Chamunda form.

Drums beat while puja is done during Durga Puja (SharodInfo)

Navami [29th September]: This is the last day of worship that ends with maha aarti in order to mark the end of prayers and rituals. On this day Durga Maa is believed to have killed Mahishasura. Goddess Durga is adorned with long Kamal flower garland and she is offered with her favorite bhog [food] and further distributed among devotees.

Beautiful Goddess Durga (zeenews.india.com)

Dashami [30th September]: During the evening, married women offer red vermillion sindoor to Goddess Durga, offer her sweets, and then smear themselves with it. Then Goddess Durga returns back to her husband's abode in the evening as she along with her children, Lakshmi, Saraswati, Kartikeya, and Ganesh are immersed in the river. Devotees bid goodbye to Goddess Durga merrily and pray that she comes again soon the next year. After the immersion, sweets are shared followed by lavish dinner. People visit their friends and relatives' house to give and receive blessings.

Married women smear sindoor on each other's faces (Peachmode)

Ladies in white-red clad sarees rejoice and dance in happiness (followtheeatenpath)

Laxmi Puja is celebrated on Thursday, 5th October, and Kali Puja/Diwali is celebrated on Thursday, 19th October.
Great Celebration of Goddess Durga
Many devotees observe fast in the morning, worship Devi Maa with rituals and prayers following the traditions. They pray Durga Maa for seeking her divine blessing and give them good health and prosperity. The festival of Durga Puja comprises of dance, drama, singing and cultural programs. Dance and singing bands are invited to perform on the stage. In the afternoon and evening, food stalls blossom as people enjoy their evening with fast food. Lunch and dinner preparation are made in the pandals for the devotees. People visit various theme-designed pandals in their new colorful dresses. They admire the beautiful statues of Durga Maa, celebrate and eat outside, and spend a good time with friends and families.
Wish you all a very Happy Durga Puja! Hope you have a great time during puja! 🙂





A proficient Web Content Developer (Technical and Non-Technical Writer), Blogger, and Freelance Content Writer. A happy author of www.w3buzz.in! She is a creative person, always eager to learn new aspects, and seeking new ways for improving skills in her field.
Follow me as google.com/+SanghamitraRoychoudhary
Latest posts by Sanghamitra Roychoudhary (see all)