As the first season of Karrle Tu Bhi Mohabbat was liked by the audience, producer Ekta Kapoor came up with the second season. Audiences always love seeing the reel life couple Ram Kapoor and Sakshi Tanwar. The second season of KTBM promises its loyal watchers to be packed with a lot of exciting drama including love, emotions, comedy, humor, fights, arguments, and ex-lover meet.
Where the previous season saw the characters of Ram and Sakshi fighting among each other because of their individual flaws, and then gradually falling in love, only to part ways because of an unfortunate situation, the second season shows that Tipsy (aka Sakshi Tanwar) and Karan Khanna (aka Ram Kapoor) are back with their nonstop teasing and they have much bigger reasons to fight. The new season also covers people like Tipsy's mother, Karan's ex-wife and his daughter, Tipsy's ex-lover. Hence the circumstances revolve around them including Tipsy-Karan's love story and the odds that they face in their individual lives. The story in the second season starts from where it made an end in the first season. Sakshi's ex-lover Palash (aka Sameer Kochchar) makes his entry, playing a baddie among Tipsy and Karan.
Also recommended: Karrle Tu Bhi Mohabbat Season 1, Storyline
Star-casts of Karrle Tu Bhi Mohabbat-2
Sakshi Tanwar as Tipsy or Tripura Sundari Nagarajan
Ram Kapoor as Karan Khanna
Shweta Kawatra as Karan's ex-wife
Sanyukta Timsina as Karan's ex-wife's daughter
Rohan Gandotra as Sanyukta's ex-lover
Farida Venkat as Tipsy's Amma
Tanvi Vyas as Tipsy's best friend
Puneet Tejwani as Karan's best friend
Sameer Kochchar as Palash (Tipsy's ex-lover)

Tanvi Vyas, Farida Venkat, and Sanyukta Timsina (INDtvUSA)
11 Episodes of Karrle Tu Bhi Mohabbat-2
Also recommended: Karrle Tu Bhi Mohabbat-2, 15 Episodes
Interesting Plot of Karrle Tu Bhi Mohabbat Season 2
Actor Karan Khanna (played by Ram Kapoor) does more movies after his recovery from alcohol addiction. He even brings his ex-wife (played by Shweta Kawatra) and daughter (played by Sanyukta Timsina) to his home after they were kicked out from her dead husband Prabudh's house by her in-laws. Karan gives full support his ex-wife and daughter.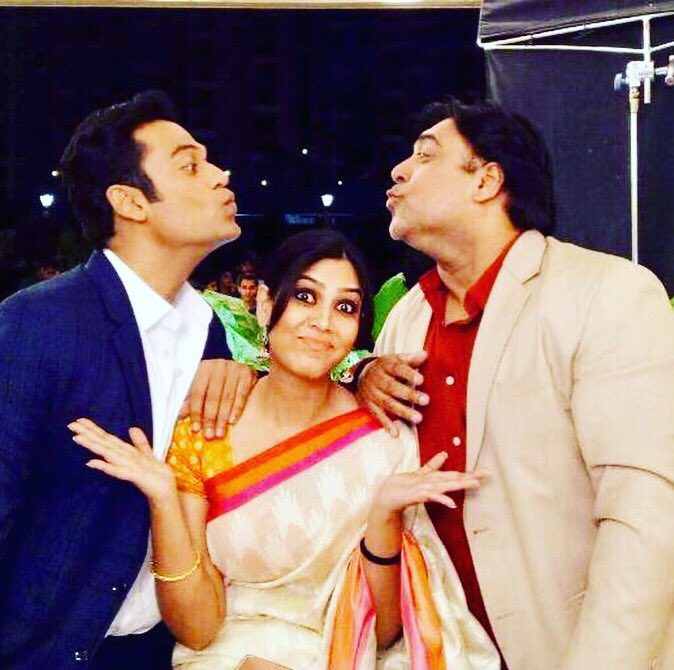 Tipsy (played by Sakshi Tanwar), on the other hand, went off to Austria on a travel trip for 3 months, to avoid Karan completely and escape her feelings. But she was suddenly called by her best friend (played by Tanvi Vyas) back to India, lying that she has faced a serious problem. When Tipsy returns back to India, her friend surprises her by getting married to Karan's best friend (played by Puneet Tejwani). Thus, Tipsy meets Karan at court for their friends' court marriage. Karan explains Tipsy how much he missed her and searched for her a lot.
On hearing that Tipsy's Amma (played by Farida Venkat) is coming to meet them from Tamil Nadu, Tipsy's friend decides to hide her wedding, while her hubby on Karan's plan will try to convince her Amma that he is really a good guy and well-settled. Her Amma should choose him only for her daughter (Tipsy's friend). At the same time, Tipsy's Amma is worried about her daughter's marriage. But Tipsy is tensed because she doesn't want her Amma to find a suitable guy for her as she knows she loves Karan Khanna.
A twist occurs in Karrle Tu Bhi Mohabbat where Tipsy's ex-lover Palash (played by Sameer Kochchar) enters into the picture. At first Tipsy doesn't know that Palash is in the same town. Palash is a lawyer who is fighting a case against Karan's ex-wife so that she doesn't possess Prabudh's home.  Karan Khanna isn't aware that Tipsy had a past who is Palash, though he has met him because he helped his daughter at a store and further the three meet at a coffee shop and chatted too. Palash even discloses to Karan about his past. Unfortunately Tipsy will meet Karan where Palash, her ex too would be present.

There are few questions that would hover over your mind while watching this series, like – Will Tipsy able to tell Karan, the love of her life, about her ex? Can Tipsy convince her Amma that she doesn't want to get married to anyone else as she has someone in her life? Will Karan be able to tell Tipsy that his ex-wife and her daughter are staying at his home? Will Tipsy convey her love for Karan Khanna directly? Will Karan know that Tipsy was Palash's past? Can Palash's plotting of getting back Tipsy in his life be effective? And, the most important question, will Tipsy and Karan be able to solve their personal problems and unite together? Is marriage on cards for Karan and Tipsy?
Well, to get the answers to all the above questions, you need to watch the appealing web series, Karrle Tu Bhi Mohabbat Season 2, only on AltBalaji. Just to let you know, the first 3 episodes of Season 2, KTBM will be free, and for the rest, you have to take premium plans to watch the other episodes. Viewers can also see the trailers for KTBM, Season 2 on YouTube.
If you are a Vodafone customer, you can install Vodafone Play from Google Playstore and watch all the episodes of Karrle Tu Bhi Mohabbat, Season 1 and Season 2 for free! Enjoy the superb chemistry of Tipsy (played by Sakshi Tanwar) and Karan Khanna (played by Ram Kapoor) only on Karrle Tu Bhi Mohabbat! Do share your views and comments with us about this new season! 🙂





A proficient Web Content Developer (Technical and Non-Technical Writer), Blogger, and Freelance Content Writer. A happy author of www.w3buzz.in! She is a creative person, always eager to learn new aspects, and seeking new ways for improving skills in her field.
Follow me as google.com/+SanghamitraRoychoudhary
Latest posts by Sanghamitra Roychoudhary (see all)