If you are tremendously talented, you would be noticed somewhere, and what better can it be when you get the chance to exhibit on a platform like Rising Star. Colors channel is arriving with a new show along with fresh concept of singing talent who mesmerize audiences with their fascinating singing. Rising Star which is world's No 1 singing reality show has made its path towards India on Colors which is the biggest LIVE SHOW singing talent hunt from across the country, and it will begin from early 2017. If you have the passion to sing fantastically, then you can certainly be a part of Rising Star by passing the audition round. The age limit for participants is 6 years and above. The performer can sing as solo, duo, trio or in group. Judges of Rising Star are Shankar Mahadevan and Diljit Dosanjh.
New Format of Rising Star  
For the very first time, Rising Star 'Singing Reality Show would be a Live Show where the viewers including the audiences present at the venue and people at home can execute live voting for their favorite contestant. Colors' approach with Rising Star is a chase for the next big singing star of India. Rising Star show signifies first real-time voting by the audiences and viewers through unique free app, and on their live voting, it will be decided whether the contestant progresses to the next level or not!
Rising Star will include few celebrity experts and judges considered will be the viewers at home and at the venue. It's going to be tricky and tough at the same time with Live voting process as every contestant has to deliver their best singing when on stage in order to stay for long in this show and go on to win the Rising Star trophy. For instance, if the voting power in totality is 100%, then the judges might have 25% power, and rest of the voting power will be in the hands of common people. Therefore, after the contestant completes her/his song, they will be rated out of 100, which will be visible on the screen in front of them.
Rising Star has earlier given successful seasons abroad in countries like USA, Israel, Indonesia, Russia, Argentina, etc, and now it is arriving in India. Rising Star is an innovative format which assures to be the next stage in television program where viewers will watch this show, and the moment it ends, they have to vote to the most deserving contestants at that very moment. LIVE,,,, as it happens, when it happens! Created by Keshet Broadcasting, the Rising Star is based on HaKokhav HaBa (Israeli Singing Competition), which means The Next Star. As per the reports on 16th October, 2016, a license deal was signed by Viacom18 along with Keshet International for gaining the format rights for Rising Star reality show. Rising Star will be mostly aired on Colors in 1st Quarter of 2017!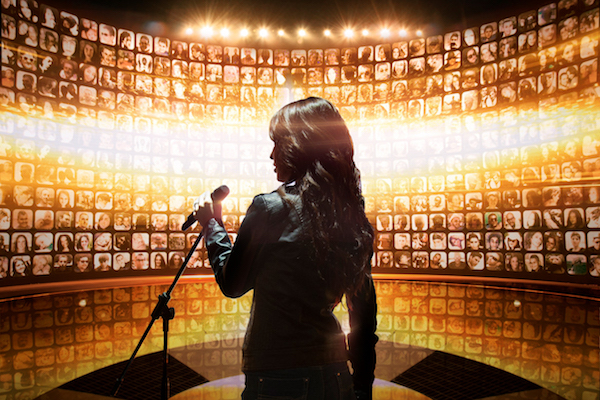 The promos of Rising Star are super-liked by the viewers.
Link of Rising Star Promo: https://www.youtube.com/watch?v=32800sJSAWs
Judges of Rising Star
Shankar Mahadevan, a popular playback singer and composer, will be a judge and mentor of Colors' Rising Star. The voice behind 'Breathless' hit sung by him, Mahadevan has composed many number of Indian movies along with his team including Ehsaan-Loy. Mahadevan stated, "I surely expect that this new-format show will touch another landmark, and I'm absolutely ready to be a part of the auditions and completion. Those who have great voice and vocal are all welcome to approach the stage and showcase their singing talent, and I would cheer for them."

Judges Diljit Dosanjh and Shankar Mahadevan on Rising Star (India Forums)

Diljit Dosanjh is a well-known Punjabi and Hindi film actor, singer and TV presenter. He was last seen acting in Bollywood movie, Udta Punjab, 2016 release. He shared his voice along with Alia Bhatt for 'Ikk kudi' from Udta Punjab. His next Bollywood movie in 2017 will be Phillauri, with Anushka Sharma. Being an awesome singer himself, Diljit will be seen mentoring the contestants of Rising Star.
Auditions of Rising Star
Auditions for selecting the best contestants from few cities of India started from 5th November and will end on 21st December in Guwahati. Dates and places are mentioned here for your reference:
Delhi audition: dated 5th and 6th
Mumbai audition: dated 12th and 13th
Chandigarh audition: dated 4th December
Lucknow audition: dated 11th December
Kolkata audition: dated 17th and 18th December
Guwahati audition: dated 21st December

Auditions Open (www.risingstarlive.in)
The audition registration of Rising Star has begun on the official website of Color channel. You can click on this given link http://www.colorstv.com/in/risingstar/register by registering yourself. You just need to fill a simple form by adding your contact details, and upload your singing video (Max 10 MB).
You have to be an Indian citizen, above 6 years of age, to participate in this show, and can perform superbly as a Solo, Duet, Trio or Group Act to compete for India's next Rising Star. Your participation in the audition round can be considered as per your submission details needed in the registration form and on the submission of audition video. You can either upload your audition video through Colors website or through Colors app. You can have a look on this link http://static01.colorstv.com/docs/012tnc_site201610271902.pdf, to know about the requirements of audition video and other terms and conditions to be focused.
According to CEO of Colors, Raj Nayak, "Rising Star is a reality show that will be launched for the first time in the upcoming year which will be based on live voting where viewers can get a chance to vote for their most preferred contestants by sitting at their homes through a new app. This format is live as well as instant. We are excited to work together with Keshet International to arrive with Rising Star in our country. The USP of this new show is absolutely high on the grounds of entertainment and even can connect with the viewers excellently."
Rising Star Release
Show name: Rising Star
Channel: Colors
Genre: Singing Reality Talent Show
Producer: Vipul D. Shah
Production Company: Keshet Broadcasting Optimystix Entertainment
Crafted by: Keshet Media Group
Developed by: Screenz Cross Media LTD
Season: 1
Release Date/Month: January 2017 (exact date to be updated soon)
All the best to all the contestants who are trying their best to get over audition rounds and enter the main completion of Rising Star. Watch out the Rising Stars singing reality show episodes with Live voting only on Colors, which starts in January, 2017! Stay updated!





A proficient Web Content Developer (Technical and Non-Technical Writer), Blogger, and Freelance Content Writer. A happy author of www.w3buzz.in! She is a creative person, always eager to learn new aspects, and seeking new ways for improving skills in her field. She loves traveling & photography; also, a sports enthusiast!
Follow me as @SanghamitraRch on Twitter.
Latest posts by Sanghamitra Roychoudhary (see all)
A proficient Web Content Developer (Technical and Non-Technical Writer), Blogger, and Freelance Content Writer. A happy author of www.w3buzz.in! She is a creative person, always eager to learn new aspects, and seeking new ways for improving skills in her field. She loves traveling & photography; also, a sports enthusiast!
Follow me as @SanghamitraRch on Twitter.