The shocking news of veteran actor Sridevi's untimely death on early morning Sunday shook the whole country as none could believe that she passed away in Dubai. Her brother-in-law Sanjay Kapoor confirmed the news that she was no more after a cardiac arrest. Her fans expressed disbelief and shock to hear such saddening news.
Sridevi, 54, was in Dubai with her hubby and younger daughter Khushi and her entire family to attend the marriage function of her nephew Mohit Marwah where she danced and took clicks and was in a very happy mood. Reportedly Sridevi fainted in her bathroom tub in Emirates Tower Hotel in Dubai at 11 pm on Saturday and soon was rushed to Rashid hospital where she was declared dead. Medical reports conveyed that she had an overdose of drinks, followed by the cardiac arrest that made her slip in the tub and pass away, unfortunately. Her body was brought to India to her residence on Tuesday late night. Today afternoon her last rites were performed peacefully. Her family, including hubby Boney Kapoor and two daughters Jhanvi and Khushi Kapoor, are extremely in grief.
Let's recollect about the golden movies of Sridevi that touched the hearts of millions of her fans!
The veteran actor Sridevi, who was a Padma Shri awardee, had worked in approximately 300 films across languages like Hindi, Tamil, Telugu, Malayalam, and Kannada in her amazing career spanning almost five decades. Sridevi (1963-2018) was pure gold at the box-office, with her excellent movie performances like Sadma, Lamhe, English Vinglish.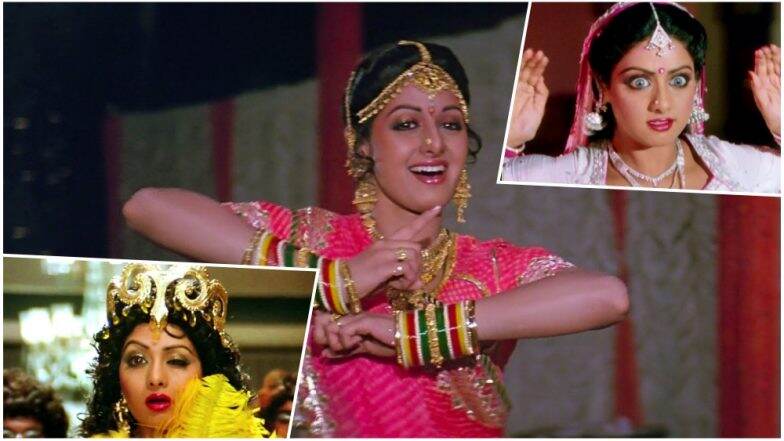 During her peak time in the 1980s, she was the real hero in her movies. The scripts revolved around her as she ruled with some of her marvelous movies like Himmatwala (1983), Sadma (1983), Inquilaab (1984), Tohfa (1984), Nagina (1986), Aakhree Raasta (1986), Karma (1986),  Chaalbaaz (1989), Mr. India (1987), Chandni (1989), Lamhe (1991), Gumrah (1993), Khuda Gawah (1993), Laadla (1994), Judaai (1997), English Vinglish (2012), and Mom (2017).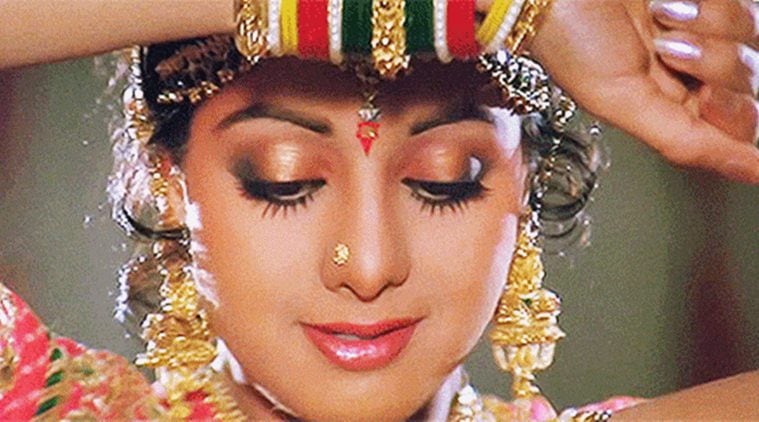 Sridevi started off with acting when she was a child. She worked as a child artiste with thespians such as Shivaji Ganesan (Kandan Nam Naadu) in Tamil movies. She will be also remembered as a young girl jiving to the track, My heart is beating, in Julie (1975). Her lead debut feature in Hindi, named Solva Savan was a remake of her Tamil hit, 16 Vayathinile (at 16) that also starred fellow legends Rajnikant and Kamal Haasan.
Sridevi looked amazingly beautiful in almost all her movies and her expressions were just priceless. She became the chiffon in Yash Chopra's Switzerland from Chandni movie. In both Chandni and Lamhe, she exhibited a more expressive and less glitzy side to her film persona which was evident in few of her Tamil and Telugu movies like award-winning Meendum Kokila (1982).
At the core of Sridevi's prowess was a stumbling range of natural attributes. Her sparkling smile could light up and mesmerize people around her, where her eyes could multitask. She was a rare actress with an impressive sense of comic timing. Her Chaplin act in Mr. India caught the nation's eyes on her. The Hawa Hawai woman bought a bounce and spontaneity to her showstopper moves. Her dance moves were attractive in all her movies, capturing hearts.
The best songs she danced in few of her best movies included Himmatwala's Naino Mein Sapna, Nagina's Main Naagin Tu Sapera, Chandni's Tu Meri Chandni and Mere Hathon Mein Nau Nau Choodiyaan, Jaanbaz's Har Kiseko Nahi Milta Yahan Pyar Zindagi Mein, Mr. India's Hawa Hawaii and Kaate Nahin Katte, Chaalbaaz's Najane Kahan Se, Lamhe's Morni Baga Maan, Khuda Gawah's Tu Na Ja Mere Baadshah, and English Vinglish's Gusthak Dil.
She was a style icon for many Bollywood actresses and her fan followers.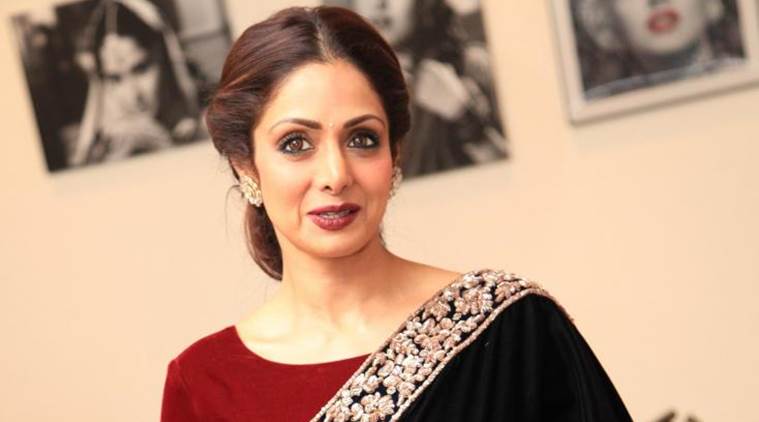 Sridevi's sudden death is a huge loss to the film industry. May her soul rest in peace!
Hope her fans keep watching her remarkable movies year after year with smiles on their faces! Goodbye to the gorgeous lady, the heartthrob of the country, Sridevi!





A proficient Web Content Developer (Technical and Non-Technical Writer), Blogger, and Freelance Content Writer. A happy author of www.w3buzz.in! She is a creative person, always eager to learn new aspects, and seeking new ways for improving skills in her field.
Follow me as google.com/+SanghamitraRoychoudhary
Latest posts by Sanghamitra Roychoudhary (see all)